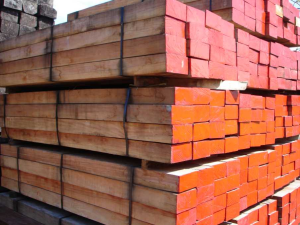 Color: Varies from a light to darker reddish colour, and often finally to a silver grey, bleached by the sun
Description: This new mora is unseasoned (means it's been freshly cut in the last 6 months) and untreated. Tight grain. Very long lasting. Normally fairly straight & square. The red ends are painted in Guyana to limit splitting as the timber dries. (UK Customs were initially interested !) This timber species is approved by Network Rail for use on GB railway system. Initially as it seasons it can smell a bit cheesy like camembert (?)
The Wood:
Weight: Very heavy to lift. Ranging from around 200 lb (90 kilos) Bear this in mind for carrying sleepers onto site (e.g. the back of a garden). You'll need at least two strong people.
Cutting: Hard timber. You'll need a circular saw / chainsaw / powered saw to cut these railway sleepers
Attaching / Fixing: Timberlok or sleeper screws may just about go through these without a pilot hole with a very powerful drill, but you might consider a small pilot hole first.